There are no "solutions" – only trade-offs.  Your task is to pick the trade-off – or the combination of them – that works best for you.  That applies to most areas of local SEO and marketing (and life), and it applies to your effort to get more good reviews from customers / clients / patients on Google Maps and on other "local" review sites.
You probably aren't dialed-in on reviews yet.  You know there are many ways to encourage people to review your business online, but aren't sure what the best way is.  All you can do is pick the best (or least-bad) trade-off for you.
Here are the pros and cons of each method of asking customers for reviews:
Asking in-person for a review later
Pros
You plant the seed of the idea. You don't expect the customer to review you then and there, nor do you even need to provide instructions in-person.  Once determining he or she is happy, you just ask, "We'd love if you could write a review of us.  Is it OK if we email you some quick steps?"  You get the benefits of asking in a more-personal way, but without putting the customer in an awkward situation.
The email doesn't come out of the blue, because the customer expects it.
You force yourself to listen to your customers and to think about whether you've earned a 5-star review.
Cons
None (that I've seen or can think of). Especially you're shy about asking for reviews, it can be more of a "testing the waters" interaction.  If the customer doesn't seem happy or seem the type who might review you, maybe you just don't ask that person for a review.
Asking in-person for a mobile review on the spot
Pros
It's hard for customers to ignore your request.
You can walk them through the process and answer any questions.
You can sniff out how happy the customer is, which can tell you whether you should follow up later (maybe in an email).
Cons
Some people will feel put on the spot, which may come back to bite you.
The reviews may be terse and seem dashed-off, forced, or fake. People have places to go and things to do.  They won't go into detail – the kind of crunchy bits you want in reviews whenever possible.
Review station (a dedicated iPad or laptop in your office or store)
Pros
Same benefits as in the strategy of "Asking in-person for a mobile review on the spot" (above).
Cons
Same drawbacks as in the "Asking in-person for a mobile review on the spot" strategy.
The jury's out on whether Google reviews are more likely to get filtered by Google, if they all come from the same IP.
Some customers may feel watched.
Emailing one customer at a time
Pros
You can tailor each request to each person, based on what you know about him or her.
It's a great opportunity to sniff out who's happy and who's not.
Cons
It takes time. You can't be sloppy.  Get the customer's name right.  Remove any boilerplate.  Maybe allude to the specific service he/she got.
Using an email service (MailChimp, Aweber, etc.) to send requests automatically
Pros
It's quick. You write one email, and your email service sends it out without your personal involvement.
It can be a good way to ask customers slowly and steadily – rather than ask too many people at once, or fall off the wagon and not ask anyone
You can study the analytics: how many people opened the email, how many people clicked the links, etc.
Cons
It takes finesse not to email people who aren't in a position to review you (like leads who haven't become customers).
You can't tailor the email to one specific customer.
Email blast (via MailChimp, Aweber, etc.)
Pros
If everything goes well you can get many reviews in short order.
It's quicker than emailing one customer at a time.
Cons
If it doesn't work you've burned through many customers and worn out your welcome to ask again.
If you didn't vet the list of customers first you may end up with a bunch of bad reviews. Then what?
Even if it works well, your reviews are more likely to get filtered, to the extent people choose Google or Yelp.
Providing review handouts / instructions in-person
Pros
Good instructions make the review-writing process simpler and less daunting
The printout serves as a visual prop. That might make it easier for you to ask customers, and may make your request clearer to them.
It's a physical reminder ("Oh yeah, I said I'd write a review").
Cons
Some customers may feel put on the spot, so you might want to test the waters ("So, how did we do?") before you hand them a printout.
Providing review handouts / instructions in an email (or attached)
Pros
Again, good instructions make the process simpler for customers.
You can provide the instructions but not rely on them; you've also got the email itself to make a friendly request that's hard to say no to.
Customers are more likely to get your request at a time they can act on it.
Unless customers just delete your email, it'll stick around in their inboxes, and in that way will serve as a little reminder for couple of days.
Cons
An email isn't as personal as an in-person request or a phone call.
It's easy to tune out an email.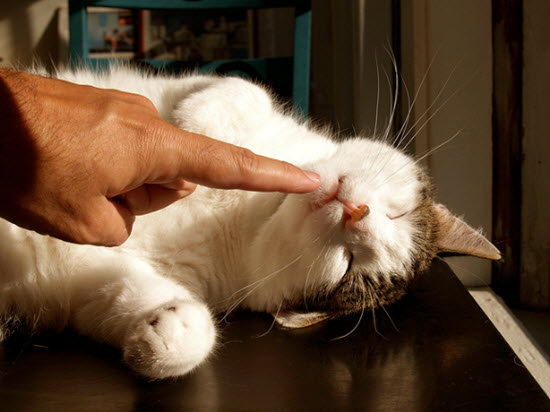 Pros
It's probably the easiest way to give customers a choice of review sites (maybe 2-5), so as to diversify where you've got reviews.
You can incorporate a review-encouragement tool like GetFiveStars or Grade.us, making it easy to set up the page.
You can easily send customers to the page in an in-person request or in an email (or both).
Cons
You add another step to the process, because you've got to direct customers to a page that in turn directs them to a review site of their choosing.
Probably some customers' reviews won't end up on the sites where you want reviews most. Maybe you have plenty of Facebook reviews, but want more Google reviews, and people keep picking Facebook.  You'll have to tweak with the lineup of sites, and which ones you prioritize.
Phone call
Pros
Great time to gauge the customer's happiness, and to sort out any issues that might stand in the way of a good review.
It's tough for the customer to blow off.
It's more personal.
It's easy for you to walk the customer through the review-writing process.
Asking hat-in-hand looks good, as it does any time you ask a favor of someone.
Cons
Some customers will take a lot of hand-holding (though it's time well-spent on your part).
It's possible you won't call at a good time.
ORM or "feedback funnel" software (e.g. GetFiveStars or Grade.us)
Pros
Having review-request emails sent out automatically can save you a ton of time
Most review-encouragement software makes it easy to offer customers several choices of review sites, helping you rack up reviews on a variety of sites.
Cons
You may be tempted to rely too much on the software to do all the work, without much or any oversight or fine-tuning on your part, in which case your software may become a meat grinder. Business owners (or their employees) never lack the time to ask customers for reviews.  They simply don't know what to ask, how to ask, or when to ask.  You should ask in-person for a review, and have the email serve as a follow-up or reminder.
You'll have to play around with the settings and probably send out some ignored requests before you find what works best.
Video walk-though
Pros
Excellent way to provide clear instructions.
You can put it on a "Review Us" page.
Cons
It takes a little effort to make a good, clear, brief video, and you'll need to change it if the steps change at Google Maps or on another site.
You may not always have the video handy when you want to walk customers through the reviewing process. They need to be in front of a screen.
Text message (SMS)

Pros
It's quick for you to set up, given that you'll probably use a third-party tool to send the texts.
For some customers it's very convenient.
Cons
For other customers the text shows up at the wrong time: they're driving or walking, or otherwise indisposed.
Often it's annoying to receive texts from people other than friends or family. It can come across as pushy.
You can't include much in the way of instructions in a text.
Any reviews you get probably won't be too detailed, may be riddled with typos, and may appear dashed-off. The chances are good they'll be unhelpful or even look fake.
It may seem impersonal.
Snail-mail requests
Pros
It's unusual, memorable, and a little harder to ignore. Most business owners – even the smart and proactive ones – do what's easiest, quickest, and cheapest.
If you send the request with printed info your customer welcomes (your newsletter, a thank-you note, photos of the project, aftercare instructions, etc.) you're catching him or her in a good mood.
You can get creative in how you ask.
Cons
Printing and postage costs. (But if you get a review, that's a tiny price to pay.)
It's not fashionable.
Pros
You don't have to stick your neck out to ask for reviews.
Cons
It's easy for people to ignore your link / button / widget.
Most people who see the link / button / widget probably aren't customers – just leads – and aren't in a position to review you.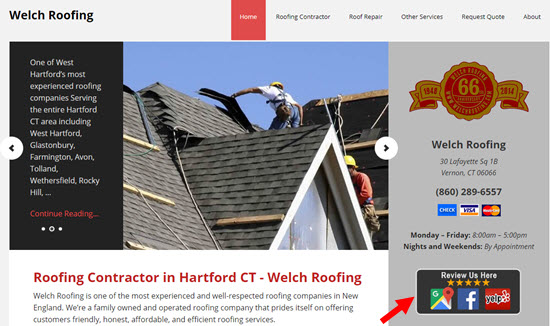 Pros
Yelp will ask customers on your behalf. As you know, Yelp doesn't want you to ask for reviews in any way.  Inconsistent and absurd?
Cons
It's for Yelp.
The reviewers are Yelpers.
Little cards with printed instructions
Pros
It's easier to keep around and hand out cards than full-page review printouts.
You don't have to think as much about what goes on the cards, because there's not room for much. Just basic instructions, or "Please visit com/reviewus to write us a review."
Cons
Customers who may need more guidance are out of luck.
The cards are easy to ignore, lose, or throw in the trash.
Pro and con
You'll try QR codes once and never try them again.
Passive strategies: letting reviews "happen"
Pros
In certain fields – like psychotherapy or financial-consulting – you're so hamstrung that you can't encourage reviews proactively. In that case a Daoist approach probably is all you can do.
It's good to know what your "baseline" is: what kinds of reviews and how many reviews you get just by doing a good job for customers. You'll probably end up concluding that's not enough, but on the off-chance it is, more power to you.
Cons
Angry customers are more likely to write reviews spontaneously than happy customers are. Maybe you can't encourage the happy people to speak up, but in that case you'd better have a way to identify the less-happy people and to smooth things over with them.
Slow progress is better than no progress. No matter how tough it is to get the happy people to review you, more of them will review if you take some steps to make that happen.
In putting together a review strategy, you learn a lot about your customers along the way. You may miss out on that if you just take it easy.
—
In my experience, here's what works best most often (your mileage may vary):
Ask in-person for a review. Test the waters.  Provide instructions if possible.
Follow up with a personal email, sent to one customer at a time. Provide instructions again (with a review handout, a "review us" page, a video – anything).
Follow up with a reminder in a week or two, if necessary. Probably a second, differently phrased, shorter email, but a phone call (or piece of snail-mail) would also work.
Can you think of a common review-encouragement method I missed?
Any pros or cons I missed?
What's worked well (or badly) for you, and why?
Leave a comment!