About a year ago I wrapped up a simple test on Moz Local (the paid version): do Moz Local-controlled listings disappear if you cancel?  No, from what I can tell.  I had tracked the listings for for an ex-client, and 3 months after cancelling they were still up.
I did that post in October of 2016.  Since then, some commentators on that post and other astute people have asked me, "Where are they now?"
Here's a snapshot of how they looked a little over a year ago, 3 months after cancelling:
And here's a snapshot of the listings for the same business now, almost 15 months after cancelling: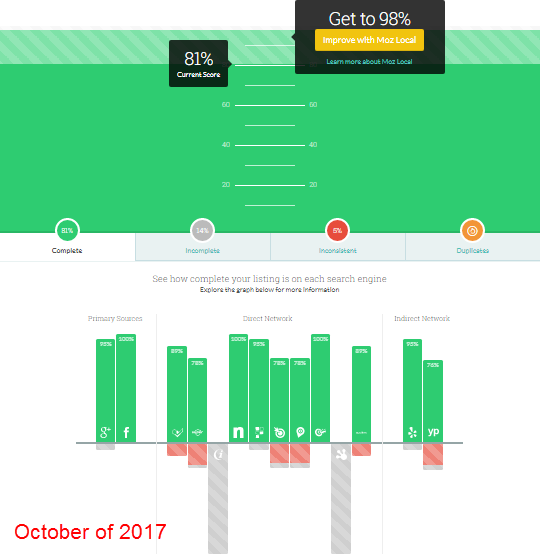 None of the important listings has disappeared in the past year, from what I can see.
In the name of "trust but verify," I just checked those listing manually.  You might notice the gray bar on the left, representing important InfoGroup.  Turns out that listing IS up still (that discrepancy between the 2016 and 2017 snapshots is just a hiccup on Moz's end).  The unimportant HotFrog listing may have disappeared, though.
What's interesting is that some of the "enhanced data" that Darren Shaw in his comment thought might get stripped out did in fact seem to disappear into the ether.  The LocalEze and SuperPages listings no longer display the business's website URL.  Though I'm interested to know whether those listings or other listings decay a little more 2 or 3 years after the fact, I probably won't do another follow-up post on it.  I don't want this to become like the 14th KISS "Farewell" tour.
It seems to be as Jim Stob in his comments said: accurate listings for valid businesses stick around.  Their shelf life is at least that of Chef Boyardee, and perhaps even equal to that of a Slim Jim.
Moz Local is a good service in many cases, particularly for new businesses or new locations of a business.  It's a low-cost and low-effort way to thin the herd of listings you need to wrangle.  If your listings on sites in Moz's network went up (or got fixed) without much trouble, I suggest keeping it around.
Still, if for whatever reason you cancel it, your listings should stay up – though you should reclaim those listings manually and re-add any additional info (e.g. your site URL) that might have gone missing.
Any questions?  First-hand experience with cancelling?  Leave a comment!