Google is still in the early stages of injecting ads into the Google Maps 3-pack.  Google never met an ad it didn't like, so the only question is when (not if) the map pack will become Times Square.
The thought of a pay-to-play local map scares the bejeezus out of many local business owners and local SEOs.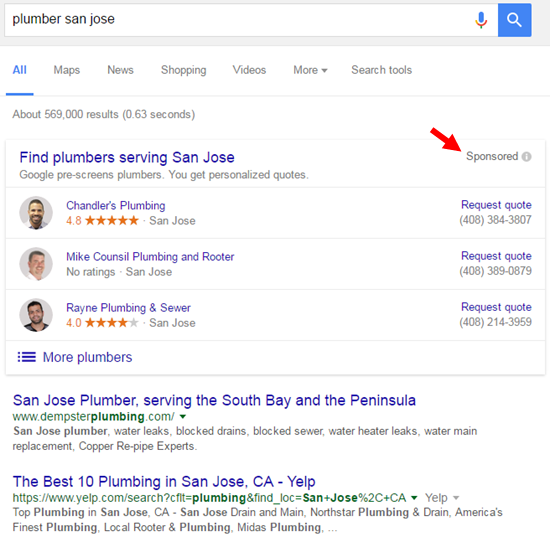 Will you lose your seat at the Local Feast to a big dumb corporation that can shovel more money into AdWords than you can?   Or, if helping people with local SEO is your business – and you don't do PPC – will you be lying in chalk?
No and no.  Not if you apply a strategy (more on that in a second) that's based on a few truths:
1. As long as there are local customers, local businesses, and the Web, there will always be local SEO. It'll just continue to morph over time, as it always has.
2. Your "Google Maps" visibility has a huge amount of overlap with other areas of online marketing – particularly with your organic-search visibility (read: your links and content) and with how good you are at earning reviews on a variety of sites.
3. The local map is not the holy grail. Keep in mind that I make a living in large part by helping businesses get visible there, so I'm the last guy to say it's not important.  But I've seen people dominate the local pack and not get any new business.  Also, Google can always mess it up (even more), lose the trust of searchers, and reduce the potential payoff.  If your one source of leads is your Google local-pack rankings, you are mooning a lion.
4. Local SEO is not just about rankings (duh). When you need something, do you automatically hire whomever ranks #1?  Neither do most people.  Local searchers are not a captive audience.  Most of them will dig until they find a business they trust.  Visibility in Google is only one part of becoming that business.
Fine, but what do you do if Google's local map becomes prohibitively expensive, or worthless, or disappears entirely?  What's left?  Is it Van Halen without David Lee Roth?
Local SEO wouldn't be lessened, or even all that different.  If we write off the map results, your local SEO campaign becomes a combination of your work on the following:
Branded search results.  When people look up your business by name, can they immediately tell your site belongs to you and not to a sound-alike competitor?  Are they impressed by your customers' reviews of you on all the review sites that show up on page 1 for your name?  Have you received any local press?  Are you listed on niche sites?
Organic visibility.  It's usually the business with the best organic visibility that ends up ranking best on the local map.  Often, that comes down to strength of your links.  But you may also want to write blog posts on extremely specific topics in your industry or city, or create good "location" or "city" pages, or both.  Arguably even now you're not necessarily better off if you rank well in the local pack but not in the organic results; they're neck-and-neck.  But if the local pack becomes a total trash heap, your organic visibility pays off even more, because people will go back to looking there for all non-ads search results – just as they did before Google Places came onto the scene.
Facebook.  It's slowly waded about shin-deep into the local pond, but there's no reason to think the shirt isn't coming off.  It's only getting more important, and there any many ways to use it to get more local customers.
Other local search engines: Apple Maps and Bing Places

and Yahoo

.
Local directories or review sites. Not the rinky-dink ones, but rather places like Yelp, Angie's List, and maybe even nasty old YellowPages.
Industry-specific directories or review sites. Zillow, Avvo, HealthGrades, TripAdvisor, DealerRater, etc.  Those are the big names, but even small niches have directories, and you should pay attention to them.
Sites and apps not yet created. Local search in general has gotten bigger over the years, not smaller.  It's become more of a part of everyone's life, and will continue in that direction.
If Google's local map results change significantly or go away, it's not the beginning of the end, but maybe just the end of the beginning.
Now, I would be surprised if the local map ever becomes 100% pay-to-play, and I'm certain that it won't change to that overnight.
But you still want a bunker plan.  That means you need to stock up the bunker with MREs and batteries and road flares and ninja throwing stars and whatever else before all hell breaks loose.
That's why, even if the local map-pack remains free and a meritocracy at least in theory, I suggest you work on the things I just described no matter what.
—
What are some important non-Google-Maps aspects of local SEO?
What's in your "bunker plan," in case the local map gets too pay-to-play?
Leave a comment!