Recently I learned of a new tool that helps business owners ask customers for reviews.  It's called Grade.us.  From what I've seen so far, I like it.
How it works
You create a page (hosted on Grade.us) that contains two things: (1) a message to your customers, and (2) some buttons that they can click on to write you a review on any of a variety of sites.
Then you just send your customers to that page, from which they can choose where they'd like to review your services.
Here's an example of a page I whipped together for a client:
As you can tell, each button links to your business listing on a given site.  Obviously, that means your business needs to have a live listing on a site, so that you can visit your listing and grab the link and paste it into Grade.us.
You can create buttons for 37 different sites:
Google+, Yahoo, Yelp, Angie's List, CitySearch, InsiderPages, MerchantCircle, YP, SuperPages, YellowBook, Facebook, Twitter, Foursquare, LinkedIn, Patch, YellowBot, Tupalo, DealerRater, Cars.com, OpenTable, UrbanSpoon, Zagat, MenuPages, Vitals, HealthGrades, RateMDs, UCompare HealthCare, DROogle, Wellness, ThirdAge, SpaFinder, Zillow, Trulia, TripAdvisor, Fodor's, Orbitz, and Travelocity.
You can also add a "custom link" – that is, create a review button for a site that's not on the long list.
What I like
It has a clean, simple layout for customers.  Also, the buttons are nice and big.
When customers click on the buttons, they're given a few quick site-specific instructions for how to write a review on a given site (if they don't know how already).
The variety – the fact that it has review buttons for 37 different sites, and lets you create a custom link (in case there's a different site you want reviews on).  As I explained during my talk at SMX West, giving customers choices and not shoehorning them into one review site or another is the best way to avoid having your reviews get filtered.
The buttons show customers which sites allow them to log in with their Facebook (or Google) usernames.
It doesn't attempt to censor people who might write you a less-than glowing review.  Some review-request tools will first ask customers to indicate how many stars they'd like to leave you, and if it's fewer than a certain number of stars, they'll be shuttled off to a "Contact Us" form.  This is bad in several ways, but the worst part is it makes the process unnecessarily complicated for the customers who will write you a very positive review.
The user-interface for you is nice and simple.  You don't even need to know any HTML.
It's quick to create your page.  I created one in 10 minutes.
It's affordable, at $29/month for a single location or $59/month for multiple locations.
There's a free trial available.  (I didn't go through the signup process for that, though; the creator of the tool, Jon Hall, was nice enough to give me a license key to try it out.)
It's nicely white-labeled – as much as can be, short of having your page hosted on your site.  The Grade.us logo isn't plastered on your page, and you can choose not to include the already-unobtrusive footer link on your page.
You can integrate your page with Google Analytics.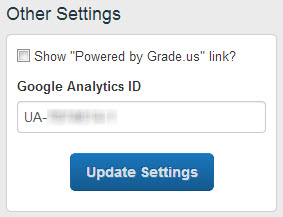 Possible improvements (AKA my gripes)
There are some elements that you should be able to customize, but can't at the moment.  For instance, some might say the review buttons are too big, and that for a certain customer base (e.g. younger customers) smaller buttons would be better.
They need an FAQ page, and maybe a "Dos and Don'ts" resource.
It's still a new tool – which means there are still a few bugs.  For instance, the "Forgot password?" option doesn't work, if you happen to forget your password.
In a nutshell
Grade.us is nicely put together.  It's quick and simple to set up your page, and it makes it simple for customers to post reviews.  From what I can see, it's also ethical: You're not dissuading less-than-beaming customers from posting a review.
It's so new I haven't had much of a chance to field-test it for my clients, but it's already a very good tool, and I'm looking forward to seeing it progress further.
—
Any feedback on the tool?  Questions for me or for the Grade.us crew?  Leave a comment!