This story should interest you if you've got a service-area business and noticed anything strange with your Google Business Profile page, if you suddenly can't find your page when you search for it, or if you're weighing the pros and cons of hiding or showing your address, or if you just like to learn about GBP / GMB bugs before they bite.
Greg McBrien of Wolf Web Co. in NSW, Australia, told me about a strange situation one of his clients had just run into. The problem is odd: a Google Business Profile with a hidden address stops showing on the map, but isn't suspended, as in the admins are still verified and not booted out and forced to re-verify.  The temporary (possibly longer-term) solution is odder: showing the address publicly, even though technically that's against Google's guidelines, and even though that usually triggers reverification by the owner. How does that work?
Greg can describe the strange situation better than I can, so here he is:
Background and problem
The client affected by this issue is a service area business, delivering skip bins (sometimes called dumpsters) to customers spread throughout the Northern Beaches of Sydney. The business has been in operation for over 20 years and from a Google My Business standpoint, has had no changes made to the name, address, phone number, description, services for over 12 months – so in essence is very stable.
Around the 6th September we noticed a major decline in both Map Pack and Organic Rankings. Whilst the customer is always fully compliant with Google guidelines, we felt the sudden drop in rankings would be a suspension of the Google My Business profile. However, upon inspection we noticed the profile was still "verified" within the Google My Business dashboard.
We also hadn't received any suspension notices and/or other email notifications from Google.
Upon checking the local rankings we noticed the Google My Business listing had totally disappeared from map pack search results.
We then performed a Google search for the company name and noticed something strange. Instead of receiving the usual "Your business on Google" admin panel, which looks similar to the screenshot below, we received no knowledge panel or details for the business.
Instead we received the following notification box which could be seen after we scrolled down the page, past the map pack search results. I refer to this as the "Only visible to managers" box:
Here are the steps you can use to determine if a listing is affected by this issue. Note the instructions assume you are a manager of the GMB page.
1. Open google.com
2. Perform a search for the company name (matching whatever name is used for the Google My Business listing)
3. Scroll down the search results, past the Map pack
4. If you are affected by the issue you will see a box which shows "You manage this Business Profile" then in the sub-text, "Only visible to managers". You won't see the full knowledge panel for the brand name or any of the usual "Your business on Google" management options.
In essence, the Google My Business listing was not appearing in any map pack search results, either for brand name searches or search terms relating to the offerings of the business.
Upon contacting Google My Business Support we received an email response after approx. 24 hours. It provided quite generic advice around improving the rankings of a Google My Business listing, but no acknowledgement of any bug or issue. Their advice amounted to this support document and this one.
Temporary solution: show the address
 After scouring through the GMB Community Forum we noticed some posts outlining that adding an address into the Google My Business listing would in fact make the listing "live" again, so we decided to give this a test.
We added the client's office address, which is also their residential address, back into the Google My Business listing. We previously didn't have the address published as the business is a delivery only business and as per Google guidelines shouldn't have the address published.
Nonetheless, within a few hours after adding the address back into the listing, it appeared live again. Here are the map pack rankings within 3 hours of adding the address back into the listing, no postcard verification was required (possibly because the listing had already been postcard verified previously).
Important Note: We weren't required to undertake a postcard verification when adding the address in as it exactly matched the address that was provided previously to Google. This address had already undergone a postcard verification. If you try and add a new address that hasn't been provided to Google already for that listing, you may be required to undergo a verification process.
At this point, we thought adding the address back in may have fixed whatever issue was causing the fault, so we removed the address to establish the business once again as a service area business:
However upon doing so, the issue returned almost immediately.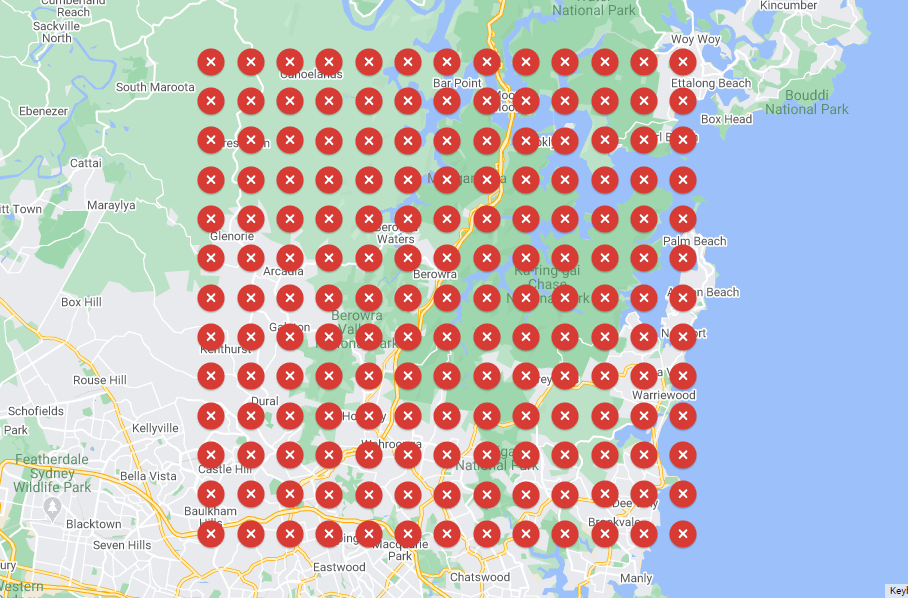 At this stage we have responded to Google Support providing further details of the issue and are awaiting their response for rectification. Adding the address to the listing does return it to being live and could be used as a temporary solution.
—
Thanks to Greg for detailed chronicling and screenshots.  By the way, I've done a bit of work with Greg, and can say he's a good SEO and a good guy, so especially if you're in Australia (and particularly the Sydney area), you might want to contact him for help.
Anyway, what do you think is going on here?
Have you run into a similar problem?
Have you run into a different problem that had at least a temporary solution involving showing (or hiding) the address on your GMB page?
Leave a comment!