This is the first I've seen of the "Services" area in Google My Business.
(Update 4/6/18: A few people saw this first a few days ago (h/t Nyagoslav Zhekov), but the rollout seems to have been tiny until now.)
The input is pretty structured, as you can see.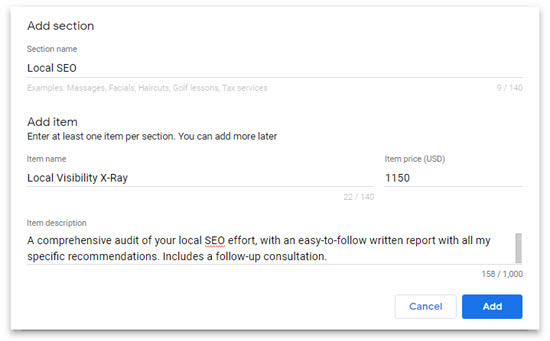 Only the "name" field appears to be required.  The "Price" and "Description" are optional, from what I've seen so far.
It may be another of Google's slow rollouts or buggy rollouts, because the info I slopped down (pictured above) hasn't showed up yet when I search for "Local Visibility System."  It's possible that, like structured-snippet extensions in AdWords, your "services" only show up for certain search terms.
Anyway, I'll continue to experiment in my dashboard and in certain clients'.  By the way, I'm seeing "Services" in non-US clients' dashboards, so the rollout doesn't appear limited to the States.
If the "Services" feature sticks around it'll fill a need.  Google's list of "Categories" long has fallen short of accurately describing many businesses.  Because of that, because of Google's murky guidelines on category-selection, and because of Google's poor policing of Maps, many business owners pick too many categories or shoehorn keywords into the "business name" field.  Maybe the "Services" field will make those sorts of things less tempting.
Are you seeing "Services" in your (or a client's) Google My Business dashboard?  Are your additions showing up publicly yet?
Leave a comment!