I spend a lot of time talking about what you should do to rank well in Google Places.  One way I do this is by focusing on patterns: I try to show you what qualities are most common among businesses that have top rankings in their local markets
But we haven't spent nearly as much time discussing what you should NOT do with your Google Places listing.  Nor have we taken a good look at the businesses that just don't do what the others do.
Hence this 1st Annual Google Places Freak Show.  It's the fun-filled day devoted to the extremes of local Google—the strange businesses that you and I and customers across the country stumble across occasionally.
I want to point out here that I am NOT using the word "freak" pejoratively.  Some of these businesses just have some aspect about them that's extremely unusual.  And I'm not passing judgment on the businesses that aren't following "best practices" for attracting customers through Google Places: I'm just using them as examples of what not do.  Above all, I'm using the term simply to refer to business listings and not to people.
By the way, these businesses all rank on the first page of local search results, last I checked.  Most of the ones that are "extreme" in a bad way aren't actually doing anything that hurts their local rankings in Google (which are usually quite good): rather, they're doing things that simply might turn away potential customers who see these businesses in Google Places.
Anyway, grab some cotton candy and let's check out some freaks.
—Lamest Photo—
This is tough.  If you're a septic tank-installation service, what's an enticing photo you can use in your Google Places listing that's relevant to the service you provide?  These guys chose to use a picture of a manhole cover.  At least they didn't use a picture of a toilet.
I think the lesson here is this: if you can't think of a picture to use for your Places listing that "paints a picture" of the service you provide, don't try to get too creative or abstract.
For example, if you're in a service industry—particularly one that's not necessarily glamorous—it's perfectly fine to take a picture of your crew in front of your truck.  It's better than taking a boring, abstract picture that doesn't tell potential customers anything about your business or why you provide a better service than your local competitors do.
If you're coming up dry for photo ideas, look at what other businesses use for photos.
—Scariest Photo—
There are a lot of things wrong with this photo.  Many of them are obvious to both of us.  But here's how I'd explain why it's not a good Google Places photo:
It's distracting.  It's an effective photo insofar as it's eye-catching—but that's where the effectiveness ends.  But once it catches your eye, the gut reaction likely is "Eww," not "Hey, cool tattoo."
Worst of all, it showcases the canvas, not the art.  The owner should have taken a few extra minutes or spent a few extra bucks to take a crisp, up-close picture of just the tattoo. Potential customers want to see the craftsmanship.  They search in Google for local tattoo parlors by typing in "tattoo," not "chest."
By the way, I just can't make heads or tails of the business name.  I have no idea what it means.  Do you?
—Angriest Market—
This is a very "tough room," as standup comedians say.  The customers consistently dislike the businesses listed in the Google Places top-7—big time.
The average rating of these businesses is 2.75 stars.  The minimum average rating is 1-star, and the maximum is 5.  This pitiful average rating is the first thing that stands out about this market.
The other thing that's unusual about this market is how motivated the customers are to leave harsh reviews.  These businesses have a total of 176 reviews.  That's an average of 29 reviews for each listing that has reviews (or an average of 25 if you count the one business that doesn't have any reviews).
I'm sure there are plenty of markets out there that have sunken even lower into the smelly pits of customer dissatisfaction.  But it's the combination of the low average rating and the high numbers of ticked-off customers that makes this market a "freak."
It just goes to show how sometimes the bar for ranking well in Google Places can be pretty low.  I'm just waiting for a bridal shop with impeccable customer service to hang their shingle in Google Places, drum up some 5-star reviews, and squash the local competition like roaches.
—Least Loved—
Generally, the people who are most likely to review your business spontaneously either love it or hate it.  You and I intuitively know that nobody can please everybody—which is why just about every business has at least a few bad reviews.
If your business has a few stinkers, no big deal.  Customers are used to seeing a few bad reviews.
But people are also used to seeing at least a few positive reviews.  This cab service has none.  It has a one­-star average rating.  That's the lowest possible rating you can receive from a customer: there is no such thing as zero stars.
Maybe this is a great cab service.  But the reviews sure don't paint that picture (just look up their reviews to see what I mean).
—Most Terrifying Review—
I don't know what happened in the doctor's office that day.
What I do know is most of us have had less-than-pleasant visits to one doctor or another at one time or another in our lives.
Patients generally heed what other patients say about doctors.  Kind of the opposite of that Seinfeld episode where the doctor offends Elaine by telling her that she's a "difficult" patient and Jerry agrees with the doctor.
Bottom line: this doctor needs a LOT of shining reviews to outweigh this review.  The other bottom line is that you need a way to gather reviews from your satisfied customers—because one scathing review can be a deal-killer for anyone who sees it—whether the review is true or not.
—Sketchiest-Looking Business—
No website.  No reviews.  No picture.  No contact information or name of business owner.  No apparent business location even when you take a look at the address in "Street View."  I'm sure they know to come to you.
The listing isn't verified, so this Google Places listing likely isn't the deliberate work of the business owner.  Still…would you feel comfortable calling that phone number?
To get the full effect, just search for this Baltimore, umm, business in Google.
—Most Disorienting Search Result—
Where does a lady from Long Beach, CA go when she wants a manicure?  Aboard the RMS Queen Mary, of course.
If you're from Long Beach, you probably know that the historic Queen Mary has been converted into a hotel, which now houses a beauty salon—hence the Google Places search result.
But I'm not from Long Beach and I didn't know that.  All I knew is that my grandfather and many other people came to America aboard the Queen Mary.
So when I first stumbled on this particular search result, I just wrote it off as a classic case of lousy Google Places categorization—like when you search for "Italian restaurant" and Google shows you the local Pizza Hut.
In a way, I guess it's good visibility for the owners of the beauty parlor on the Queen Mary: after all, seeing the old ocean liner in Google's local business results doesn't happen every day, and it demands a little bit of your attention.
On the other hand, when a particular business seems out of place in the local search results, people like me might not even click on the Places Page because we think it's just irrelevant to what we typed into Google.
—Runner-Up: Freakiest Business Name—
It would be one thing if "Sweet Cheeks" was a cosmetics shop that specialized in selling blush.  But no: it's a baby-clothing store.  I find this slightly disturbing.
—Winner: Freakiest Business Name—
The business is a body-piercing joint.  The location is Broken Arrow, Oklahoma.
What can I possibly say about the name?  It's brilliant.
One last thing before I turn it over to the Ringmaster
As I said, all of these "freaks" rank in the top-7 of Google Places.  At least for the time being, their visibility is pretty good—and to the extent they've tried to rank visibly, they've more or less succeeded.
But there's more to attracting local customers than just a good local ranking.  When people click on the listing, what happens?  Are they attracted, or repulsed?  Do they want to pick up the phone or leave your Google listing?
Some businesses, like "Just Another Hole," are deliberately strange in a clever way.  But for some of the others, I wouldn't be surprised if their business owners called me and said they weren't getting too many actual customers, despite their rankings.  I'd tell them to pay more attention to the gut-level first impressions their Google Places listings create.
Whatever your ranking, I suggest you pay attention to how your Google listing comes across at a gut level.  Ask friends, family, or customers who haven't seen it to take a look and give you their first impressions.  You'll ensure that YOUR business won't ever make it into a future Google Places Freak Show.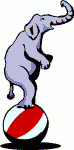 —
Do you have a "freak" you'd like to submit?
Do you have some strong opinions about the ones you just saw?
Let me know: drop me a line or leave a comment!  (I might even include it in the next Freak Show.)